1) The weather
In Thailand, the weather is always almost perfect between November to May. In the sunny seasons, Thai sunsets are just breathtaking, particularly in the Phuket's beaches where a lot of leisure activities are available. So, if you want a sunny wedding ceremony, Phuket is your best bet! But you need not to be shy about getting married in Phuket in June; the rains aren't frequent or heavy at this time of the year! Actually, the "rainy season" is at its heaviest between the months of July-September before it clears in October. Starting October, those who hate the rains can avoid considering this destination. In Samui, you can expect good weather from December to March (avg daily temp: 29°C – 35°C), while April and May are the hottest months in this region. If you're worried about the rainy season in Phuket, you should consider Koh Samui which is located in a different ocean, and they have a slightly different rainy season! Koh Samui's rainy season starts in September till the end of December. So, if you're looking to get married in the months from June until September, in Samui is your dream destination!
2) The landscape
Thailand is one of the most spectacular destinations with a lot of discoveries. Each day you can visit a new venue with unique attractions. Between waterfalls, jungle, and sea you certainly will not be bored here…! This country is known for its beautiful beaches comprising of thousands of meters of fine white sand, turquoise and clear sea. If you like traveling and discovering unknown destinations, Thailand is the perfect destination for you. If you want to prolong your stay here, you can easily hire a scooter, a car or a long tail boat to ensure you explore every inch of this gorgeous island. You have plenty of landscapes to enjoy with your family and friends!
3) Discover new activities and cultures
Koh Samui and Phuket are two of the best honeymoon destination sites for new couples. You can exploit diving in Koh Phi Phi island (very close to Phuket) and swim with sharks and turtles. But you can also surf out in the sea. You will find refreshing beaches on this beautiful destination; you can enjoy roaming and sunbathing. For the bravest of you, you can venture into activities such as adrenaline packed zip lining over the canopies and across the valleys, do some quad rides. You can as well make some trails and admire the stunning views in Promthep cape, Kaoh rang hill, Big Buddha, Lamai, and from the jungle club.
4) To relax you
You will need to decompress and relax before your ceremony. What's better than the gorgeous Phuket and Koh Samui beach for this? It lets you enjoy the landscape, the sunbath and the clear sea before your perfect day. A wedding planner takes care of all preparations-from start to the end, so you must relax you!
5) Easy to come by flight
Phuket and Koh Samui have one airport. Finding a flight from every country to the islands is effortless. On both islands you would find some taxis and buses that can drop you directly at your hotel. For instance, you will find a taxi at the airport, but you can also rent cars at the airport for the time you will stay there.
6) Rent of luxurious venues with attractive prices
In both islands, there are a lot of private villas and resorts all uniquely stunning. Some of them can be found on our social media pages. We have negotiated attractive rates for our clients in these venues, thanks to our experience and partners with privates villas and luxury resorts!
7) A rewarding country
The food: Thai food is so delicious and diverse that traveler's should not eat the same dish twice. In fact, you can eat red or white meat, boiled or on the grill, and also try fish, noodles, soups, salads, and so forth with a lot of different tastes. Thai cooking is diverse and exciting, too, you can find various recipes in a different location. All of this for 50 baths..!
Thai people: There is something with Thai people that makes them genuinely inviting. It may be linked to their culture; naturally, Thai people are friendly, and there has a sense of hospitality. For them, having visitors is, and they welcome you as a guest and not as a tourist.
The market: Markets in Thailand are unique attractions too. In fact, all the markets are different, and they have their own distinct character. Some of them are specialized in Food street, others in clothes, others are chock full of antiques and secondhand items. Of course, you can't resist buying something here, maybe souvenirs of Thailand will please you!
The history and the Thai culture: Buddhism and Hinduism influence Thai culture, and very ancient. The immigration of Chinese people in the country has had an important influence on Thai culture.
Thai art: Traditional art was always influenced by religion. Modern art has as many traditional practices as modern ones. Literature and theatre were inspired by the Indians, the Khmers, and the Môns. Danse is really important in the Thai culture, and you should find a lot of dance shows divided into three different dances: the Likay, the Khon and the Lakhon.
Religion: For Thai people, religion is fundamental. The most popular belief is Theravada Buddhism, and around 95% of Thais practice it. Since the apparition of Buddhism in Thailand on the 3rd Siècle, a lot of monuments were built. Today, they form a real cultural and religious heritage for Thailand.
Thai people are respectful of other religions such as Muslim, Hinduists, Christians, and Sikhs.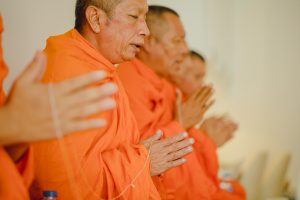 8) To have an original wedding
In Thailand, you can get married where you want: on the beach, in the jungle, in a private villa, or even in a luxury resort. Did you ever dream about getting married on the sand or a glass platform on the swimming pool? Here, it's possible, wherever you want to get married, you can get married there.
9) For a beautiful photoshoot
You can take a great photo shoot on the rocks with the waves or the calm sea on the background; how does that sound? Would you prefer the beach with your foot on the sand or the jungle for a tropical atmosphere? You may also like a viewpoint on Koh Samui or Phuket' islands or a photo from your private villa or luxury resort. A lot of possibilities are offered to you for your wedding photo shoot. So, which one do you prefer?
You can ask your photographer to follow you throughout all your travels so they can capture all the different moments and moods you exhibit during this beautiful time.
10) Travel with your friend and family
After the wedding time, you can stay in Thailand and continue to enjoy with your family and friends. Make some daily activities such as renting a car to visit the best places in Thailand, or take a boat trip around the island. Live the moment to the fullest!